St. Thomas More School:
Making a difference since 1966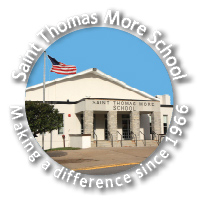 Saint Thomas More School is a Catholic elementary school for grades preK-8. It is located in South Kansas City, Missouri, in a quiet residential area. The yearly enrollment is approximately 550. The class size is a maximum of 26 students. Students are encouraged to achieve their best and to participate in community service.
Anti-Bullying: We are a "Golden Rule" School utilizing the Olweus Anti-bullying program
Mission Statement
Saint Thomas More School provides a safe learning environment in which I, as a unique child of God, strive to become the person God intends for me to be through academic achievement and acts of justice, love, and service based in our Catholic religious beliefs.
Vision Statement
Saint Thomas More School will strive to develop life-long learners with global awareness through a life style of faith, service and rigorous academics enriched by technology.

Registration information can be found here.
A letter from our principal
Dear Parents,
Choosing a school for your child is one of the most important decisions you as parents make. An environment that not only has high academic standards but seeks to shape the students' moral character, is a win-win for families and our community as a whole. We are proud to welcome you to St. Thomas More.
Since opening our doors in 1966, we have educated over 2,750 alumni. Currently, St. Thomas More School serves over 300 families and 500 children in pre-school through 8th grade. The teachers and staff at STM are committed to teaching our students with high academic expectations while providing a Christ-centered experience for them to grow and learn. As a testament to our academic standards, each year, on average, our 8th grade students score at least two grade level equivalents above the national average in both Math and English Language Arts on our standardized testing. We continue to maintain our accreditation through both Missouri Non-Public Accrediting Association and AdvancED.
Above all, we are committed to educating the total child and nurturing their talents in an inclusive environment. Daily religion class, weekly mass, sacramental preparation, and service to the community guide our students and provide a unique foundation for life-long spiritual growth. Each grade level focuses on service opportunities which ensures that charitable outreach is taught and experienced by all of our students
St. Thomas More School is fostered by, and thriving because of, our supportive parish community. Our church and school allow opportunities for our students, parents, grandparents and neighbors to celebrate life's milestones, serve those in need, and share their talents among our "big family".
We sincerely thank you for your interest in St. Thomas More School. Please feel free to call us at 816-942-5581 and we would be honored to answer any questions or give you a tour of our wonderful school. We and our dedicated teachers would love to share the "Good News" about how St. Thomas has been making a difference for our 50 years!
Blessings,
Kathy O'Sullivan & Laura Knapp, Interim Principals
(Contact us)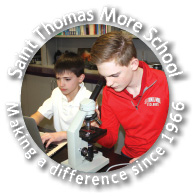 "Enter to learn, go forth to serve"
Since the doors to our school first opened in 1966, Saint Thomas More School has been making a difference in the
academic arena! Our success is evident in the number of alumni who have returned to send their own children to Saint Thomas More.
We believe that a challenging curriculum paired with an emphasis in Christian values, ensures the comprehensive development of tomorrow's leaders. Students of Saint Thomas More Catholic School graduate with a unique and solid foundation that only a parish-supported school can give. Our students, teachers and pastoral figures ignite the synergy, which allows for great opportunities for educational and moral growth.
Saint Thomas More School boasts:
Accreditations by the Missouri Non-Public School Accrediting Association and NCA/AdvancEd
95% of our graduates attend Catholic high schools
Over 500 students enrolled: Full-day Preschool and Kindergarten and grades 1-8
Enrichment activities including: Spanish, band, choir, art, computer, robotics, Junior Board, Student Council, physical education, yearbook
Tenured teachers and teachers with advanced teaching degrees
Student Success Team (Inclusive Education Coordinator, Counselor, Para professionals and Reading Specialist)
The latest in-classroom technology includes Smart Boards, iPads, and MacBook laptops
STEM (Science, Technology, Engineering, Math) is always on the forefront of academic growth at STM School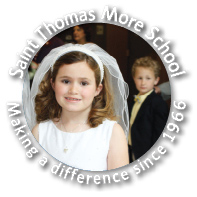 While academics give students opportunities to challenge and expand their minds, spirituality offers students a sense of connection towards a higher purpose.
At Saint Thomas More School spiritual development is fostered daily whether it be on the basketball court or in the classroom. Saint Thomas More has a tradition of providing an environment allowing students to grow in their faith.
Saint Thomas More stewards have been making a difference for over 50 years!
Children
Students attend weekly all-school Mass
First Reconciliation
First Communion
Confirmation
School of Religion
Yearly service project requirements for students
Service/mission trips local and international
Emphasis on core values within the school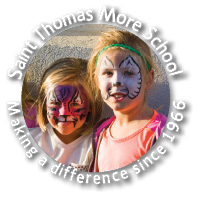 Community has many facets at Saint Thomas More. Our parish community is made up of families, learners, volunteers, stewards, caregivers, fans, donors, visionaries and believers.
Our church and school provide an environment where generations learn and serve together.
Our parish mission statement expresses what is at the heart of our community:
"The mission of Saint Thomas More Parish is to provide a welcoming, inclusive, and loving community by proclaiming and living God's Word through worship, education, and social justice."
Our Saint Thomas More community has been making a difference for over 50 years in the lives of others near and far.
Parishioners and Volunteers are active in many ways at Saint Thomas More:
Youth Ministry
School of Religion for children attending non-Catholic schools
Special Religious Education for the Developmentally Delayed (SPREDD)
Boy and Girl Scouts
Sacramental preparation and celebrations
Cheer on your STM Cyclones
Annual Parish Picnic and BBQ competition
Knights of Columbus
Guatemala Mission Trip
Catholic Schools Week
School Auction and other fundraising events
Fellowship opportunities with Singles, More Friends, Mothers of Young Children & Men of STM
and much more...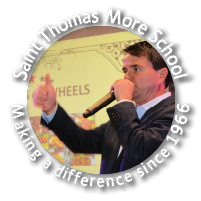 Parental involvement is encouraged, in part, through a variety of organizations at Saint Thomas More School including:
The School Board is a sounding board for policies and budget and provides resources for school sponsored activities. The board consists of school parents and parish members, representatives of the Home and School Association, Athletics, and Administration. Selection of board members occurs in the spring, and applications are available on the school website.
The Home and School Association supports school activities providing volunteers for programs including new family mentoring, room parents, recess volunteers, and teacher appreciation, to name a few. Volunteer sign-up forms are available in the spring and at the beginning of the school year.
The Booster Club promotes involvement of school families in the sports program by defraying participation costs for students while providing valuable resources for maintenance of sports related space and equipment.
STM-for-All is a ministry that advocates for inclusion across our STM community. We are a group of parents, parishioners and faculty, volunteering to help define a welcoming culture that embraces our students and parishioners and the unique abilities they bring…into our classrooms, on the sports fields, and in our church.
The Cultural Enrichment Committee provides support to the students participating in the band program at STM. Additionally, the committee helps defray costs for the art and music departments and promotes special programs for increased cultural awareness including the sponsorship of the Discovery Learning Network for all academic applications.
Saint Thomas More Auction is the main fundraiser for our children's academic, athletic and cultural enrichment programs. The night, usually in early February, consists of a silent and live auction and a sit-down buffet dinner followed by a dance. Now you can bid for auction items online, if you are unable to attend! Be sure to visit www.stmauction.org. This event takes a large number volunteers! Please contact the school office for more information regarding these standing committees or the other opportunities for school-centered activities and community involvement.
Here is a sample of coming school events:
Registration for 2018-19 School Year Begins
February 21, 2018
Registration for 2018-19 School Year Ends
March 8, 2018
Jesus Day for 2nd Grade
April 27, 2018
1st Holy Communion for 2nd Grade
April 29, 2018
---
Use this form to contact us for more information or to schedule a tour.
More School pages