Logistics
Materials & Format
We will be using Decision Point (designed by Matthew Kelley) materials for Confirmation preparation. Traditionally, this series has 12 sessions but we will be fitting them into 10 sessions.
To learn more about Decision Point in general, visit their website HERE.
Parents will have access to all materials online and you can sign up to receive emails from Decision Point to engage your kids in what we are covering and enrich your own personal walk with God. For more info, visit their page for parents HERE.
Confirmation Prep Sessions
Beginning in March, the sessions are on Tuesdays from 7:00-8:30pm only twice a monthstarting in March of 2018.
Only the candidates are required to attend! Sponsors are also welcome.
The dates are…
March 6th & 20th
April 10th & 24th
May 8th & 22nd
June 5th & 19th
July 10th & 24th
Dinner will be provided by STM Youth for each Confirmation prep session!
Confirmation Retreat Date
August 17-19 @ Prairie Star Ranch (Williamsburg, KS – Details to follow)
Date of Confirmation Sacrament Celebration for 2018
Wednesday, August 29th, 2018
Be signed in at More Hall by 5:15pm with sponsor, pizza will be provided, 5:45pm talk from Bishop Johnston, 7:00pm-8:30pm Mass
Confirmation Fee
$100/candidate. This fee covers….
Decision Point physical workbook
Confirmation preparation session meals
Confirmation retreat (5 meals, transportation to/from Prairie Star Ranch, recreational activities at PSR, 2-night stay at PSR)
DUE DATES
A quick note on due dates – You are more than welcome to turn these things in prior to the due date listed. TURN MATERIALS IN VIA EMAIL OR HARD COPY
Due November 1st, 2017
Confirmation Personal Interest Form – see Appendix B in the Confirmation Packet
Direct Communications Form (Click HERE for access)
Due March 6th, 2018…
Photocopy of Baptismal Certificate
Baptismal Certificate Form (Appendix E)
Confirmation Fee (made payable to St. Thomas More)
Due June 19th, 2018…
Confirmation Name Form (choose a patron saint)
Must have a scheduled Confirmation interview (Appendix C)
A Word of Consolation
Congrats! You've made it to the end of this monster! You're almost there, stay strong!
I want you all to know that I was awfully torn about when to schedule these prep sessions. After discussing things with Fr. Justin a few weeks ago, we came to the conclusion that weekends, especially Sundays, ought to be reserved for family time and getting caught up on schoolwork. When it comes down to schedules, I know very well that this isn't going to be easy. That is why I wanted to be proactive about letting all parents know 7 months in advance to prepare and put the dates on their calendar.
As a former high school athlete passionate about getting to the next level, I understand how difficult it is to balance practice, training, and gym time with my faith , and everything else going on in a teenagers life (band, choir, clubs, etc). After finding Christ during my senior year in high school, I ended up putting my faith above sports and everything else that was fighting for my time. I'm still moved to tears thinking about how my parents were not supportive of me growing in my love for God, and how they viewed baseball as my foundation and my faith as an afterthought , a luxury . They had it all backwards! I missed games and practices for RCIA classes and youth group, and yet, I still went on to play college baseball at the Division 1 level.
Being sealed with the Holy Spirit is a great gift from God, just like Marriage or Baptism! It takes commitment and time to prepare for, and it is my prayer that all parents will make this preparation a priority in their kids' lives. May God bless you this day and always! You are in my prayers
Stay in the loop!
Join our Remind "class" to stay up to date on all events and activities for our youth! Text "@stmpeak" to 81010 for week to week updates!
Contact
L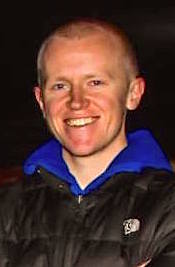 ee McMahon, Director of Youth Ministry
To email me, please click here.
Phone 816-942-2492