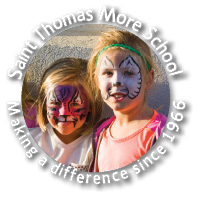 Community has many facets at Saint Thomas More. Our parish community is made up of families, learners, volunteers, stewards, caregivers, fans, donors, visionaries and believers.
Our church and school provide an environment where generations learn and serve together.
Our parish mission statement expresses what is at the heart of our community:
"The mission of Saint Thomas More Parish is to provide a welcoming, inclusive, and loving community by proclaiming and living God's Word through worship, education, and social justice."
Our Saint Thomas More community has been making a difference for over 50 years in the lives of others near and far.
Parishioners and Volunteers are active in many ways at Saint Thomas More:
Youth Ministry
School of Religion for children attending non-Catholic schools
Special Religious Education for the Developmentally Delayed (SPREDD)
Boy and Girl Scouts
Sacramental preparation and celebrations
Cheer on your STM Cyclones
Annual Parish Picnic and BBQ competition
Knights of Columbus
Guatemala Mission Trip
Catholic Schools Week
School Auction and other fundraising events
Fellowship opportunities with Singles, More Friends, Mothers of Young Children & Men of STM
and much more…
---
C O N T A C T U S
Use this form to contact us for more information or to schedule a tour.