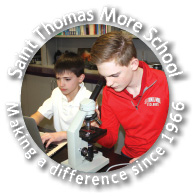 "Enter to learn, go forth to serve"
Since the doors to our school first opened in 1966, Saint Thomas More School has been making a difference in the
academic arena! Our success is evident in the number of alumni who have returned to send their own children to Saint Thomas More.
We believe that a challenging curriculum paired with an emphasis in Christian values, ensures the comprehensive development of tomorrow's leaders. Students of Saint Thomas More Catholic School graduate with a unique and solid foundation that only a parish-supported school can give. Our students, teachers and pastoral figures ignite the synergy, which allows for great opportunities for educational and moral growth.
Saint Thomas More School boasts:
Accreditations by the Missouri Non-Public School Accrediting Association and NCA/AdvancEd
95% of our graduates attend Catholic high schools
Over 500 students enrolled: Full-day Preschool and Kindergarten and grades 1-8
Enrichment activities including: Spanish, band, choir, art, computer, robotics, Junior Board, Student Council, physical education, yearbook
Tenured teachers and teachers with advanced teaching degrees
Student Success Team (Inclusive Education Coordinator, Counselor, Para professionals and Reading Specialist)
The latest in-classroom technology includes Smart Boards, iPads, and MacBook laptops
STEM (Science, Technology, Engineering, Math) is always on the forefront of academic growth at STM School
---
C O N T A C T U S
Use this form to contact us for more information or to schedule a tour.