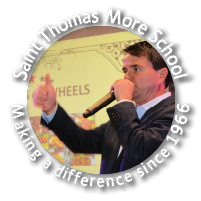 Parental involvement is encouraged, in part, through a variety of organizations at Saint Thomas More School including:
The School Board is a sounding board for policies and budget and provides resources for school sponsored activities. The board consists of school parents and parish members, representatives of the Home and School Association, Athletics, and Administration. Selection of board members occurs in the spring, and applications are available on the school website.
The Home and School Association supports school activities providing volunteers for programs including new family mentoring, room parents, recess volunteers, and teacher appreciation, to name a few. Volunteer sign-up forms are available in the spring and at the beginning of the school year.
The Booster Club promotes involvement of school families in the sports program by defraying participation costs for students while providing valuable resources for maintenance of sports related space and equipment.
STM-for-All is a ministry that advocates for inclusion across our STM community. We are a group of parents, parishioners and faculty, volunteering to help define a welcoming culture that embraces our students and parishioners and the unique abilities they bring…into our classrooms, on the sports fields, and in our church.
The Cultural Enrichment Committee provides support to the students participating in the band program at STM. Additionally, the committee helps defray costs for the art and music departments and promotes special programs for increased cultural awareness including the sponsorship of the Discovery Learning Network for all academic applications.
Saint Thomas More Auction is the main fundraiser for our children's academic, athletic and cultural enrichment programs. The night, usually in early February, consists of a silent and live auction and a sit-down buffet dinner followed by a dance. Now you can bid for auction items online, if you are unable to attend! Be sure to visit www.stmauction.org. This event takes a large number volunteers! Please contact the school office for more information regarding these standing committees or the other opportunities for school-centered activities and community involvement.
Keeping our students safe
Please note: Every adult (age 18+) who volunteers at our school or with any of our extracurricular programs is required to complete a background check and take a class called "Protecting God's Children." You can learn more about these diocesan requirements here, or sign up for the training through this Virtus link. Please note you must register in advance for this class. Walk-in's will not be accepted.
---
C O N T A C T U S
Use this form to contact us for more information or to schedule a tour.