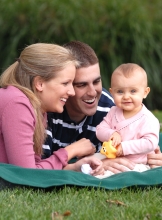 Discover a natural way to postpone or achieve a pregnancy…the Art of Natural Family Planning® (NFP) is based on an awareness of a woman's fertility. It's medically safe, 99% effective in postponing pregnancy, very low cost, often has a positive effect on the couple's marriage, and is morally acceptable to all major religions.
When asked what though of the NFP program, Courtney said: "I thought it was wonderful actually. I think it's something that we will probably end up doing, actually. It's so important to learn and be familiar with what's going on with your own body, and this seems pretty accurate! I've known SO many women my age who have so many difficulties with conceiving, so this seems like a great way to get ahead of the curve if something ends up being off."
Contact Us
Call the parish office at the number below or email "To Whom it May Concern" for more information.
Calendar
NFP events at Saint Thomas More are posted on our event calendar.
These and other local NFP events are posted on the local chapter website listed below.
On the Web
The Couple to Couple League International website includes information on the advantages of NFP, how to learn, FAQs, church teachings, and marriage-building effects: http://ccli.org
Local CCL Chapter/Schedule: www.cclkc.org
Program at St. Joe Medical Center: www.fertilitycarekc.com
Learn NFP online: www.learnnfponline.com

NFP only Medical Providers: http://www.omsoul.com
Getting Married?
Click here for information on this site about getting married at Saint Thomas More.