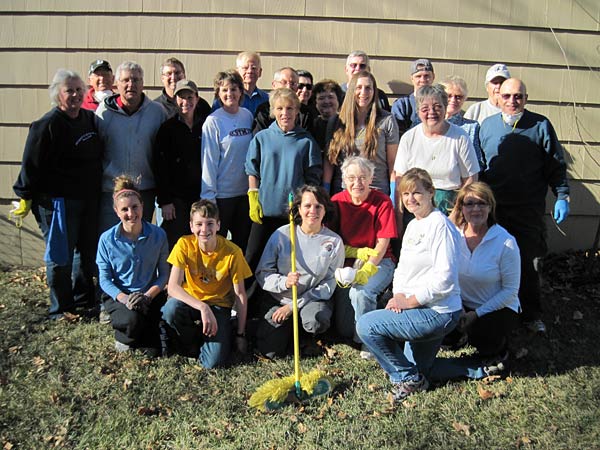 Helping Hands of STM is a parish organization whose mission is to provide help with basic needs of those in our parish and surrounding community. The help offered could range from fixing a faucet to raking leaves to visiting someone who is lonely.
If you know of someone in our community who needs this sort of help, contact David Butel.

Parishioner Phil Paschang also serves as a primary contact for this ministry. Consult your parish directory for his number.
Helping Hands-Jan 2013
By Phil Paschang:
Liz was only in her mid-seventies, but struggling to stay in her house and remain independent.  She was justifiably proud and didn't want to ask for help, even hiding the fact that her house was a bit of a mess.  Finally, a fall on the steps sent her to the hospital with serious injuries, making it impossible to live in the house anymore.  She needed to sell quickly so she could start over in a safer place, but there was much to be done.
In stepped more than 20 Helping Hands volunteers who in a matter of hours transformed the house, ready for the market.  Liz's family couldn't believe that so many total strangers would  enthusiastically give up their day on short notice, and even cross the state line to do so (gasp)!
The house resembled a bee hive that morning; thanks to Kathleen, David, Chris, Jeff, Joe and Karen, Tina, Cindy, Marie, Michael, Butch and J.R., Teresa, Mike, Emily and Ryan, Ed, Michele, Beth, Kathy, Rhonda, Mary, John, and Phil.
Truly the Holy Spirit is alive and well at St. Thomas More Catholic Church!