Teaching Jesus and meeting needs in San Andrés Itzapa
"Share the Change" founded
This year Maynor (see Maynor's Story below) resigned from his job in Guatemala City and in his words, "followed God's call" to return to his community to make it a better place.   In January 2013, a new program called Share the Change was founded by Maynor in partnership with STM.   As explained in Maynor's words,
"Share the Change is an idea that emerged from God's plans, who prepared this mission many years ago.  With the vision of a better world (God's Kingdom), the challenge was accepted, knowing this was an urgent call from the Highest."
Maynor is working with Madre and her Carmelite sisters to establish a religious education program which will educate the whole person.  They are educating children, youth, adults and families.  This education will focus on coming to know Jesus and also in meeting the needs of the people, e.g., better nutrition, economic development, drinking potable water, working with single mothers etc.
By uniting the families, Maynor will come to learn the needs of the people from the people themselves,  thus empowering  them.  From this perspective, our solidarity with the community of San Andrés Itzapa will be strengthened and we will meet the true needs of the people by combating the stark poverty, lack of education and other social ills that face the community.
The Guatemala Action Committee is very excited for this next step in building our relationship and our commitment to our Sister Parish Community.  Maynor has enthusiastically begun his new responsibilities by meeting with Madre and the nuns to explain this new mission, meeting with the director of San Bartolome to determine the needs of the school and working with the Parish Pastoral Council of our sister parish.
In January 2013, Maynor identified needs and made arrangements for a group from Rockhurst High School, led by Bill Munninghoff.  On that trip, twelve families benefited from the building of new stoves.  Sixteen families worked side by side with the group to build family gardens.   The group painted part of the convent and visited and prayed with sixteen families who had members who were ill or in great need.
Maynor's Story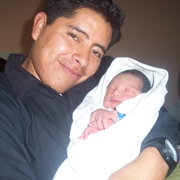 Many years ago, Shannon Ervin, daughter of former parishioners  Jed and Sharon Ervin, adopted a little boy named Maynor Estuardo Tagual Siguinajay   through CFCA.  While working in the fields, Maynor's father had been murdered during the Civil War.   Along with his 6 siblings, he attended the school STM sponsors and was raised by his mother who had no education, nor training to support her family.  Many parishioners have watched Maynor grow up, finish college, get married and bring two beautiful babies into this world.  Father Don once made the comment, after meeting Maynor, that he was one of the very rare people that had a "pure heart."  Maynor is filled with the love of Christ, love for his community and love of life.
Annual Report