Guatemala Sunday in August every year celebrates our mission in San Andres Itzapa. It includes a collection at all the Masses.
For the past 15 years, Saint Thomas More has done incredible work to help the poorest of the poor in San Andres Itzapa, Guatemala. The average person in that community makes a dollar a day, lives in a mud hut with dirt floors, and has little access to clean water, electricity, medical or dental care, or educational opportunities.
Due to your support STM has:
Built and supported a school for poor Mayan Indian children.
Built and supported an orphanage for physically and mentally handicapped children.
Built and supported a community center in Coban, Guatemala that allows orphan children in the area to eat two meals per day versus eating from the local dump.
Built and support a convent for religious sisters to live in Saint Michel, Guatemala that allows them to serve a community with many needs.
Installed a new concrete roof (the previous roof was about to collapse) on the convent in Itzapa.
Assisted over 1000 parishioners and others, including doctors, teachers, and youth to travel and develop relationships with some of the most wonderful people they could ever meet, as well as provided hundreds of new pairs of shoes, 2000 new school books, clothes, medical supplies, medical and dental care.
Our annual Guatemala collection and gifts throughout the year helps make all this possible. Thank you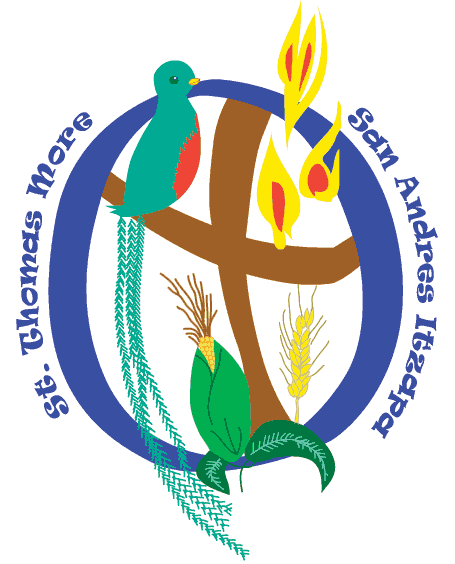 This St. Thomas More – San Andres Itzapa sister parish logo was designed by Sister Frances Marie Grady, S.G.L. The two flames, becoming one symbolize the union of love between the people of the two parishes. The wheat of mid-America and the corn, or maiz, of Guatemala, express our union in the Eucharist and our desire to nourish one another's faith. The Guatemalan bird, the quetzal, which cannot live in captivity, represents the yearning of the Guatemalan people for peace and freedom in their land. All are encircled by a globe, our world, united in the Cross of Christ. The logo was hand-embroidered by the Carmelite Sisters of San Andres Itzapa on band-loomed Guatemalan fabric in June 1991.