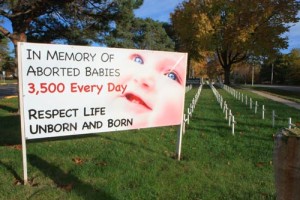 The Saint Thomas More Respect Life Group addresses issues that represent all the various aspects of the church's "seamless garment" of pro-life advocacy.
Meetings
The Respect Life Committee meets on the Second Wednesday of each month, September through May, at 7:30 pm, in the Huhmann Room in More Hall. All are welcome!
Contact
Judy Budde, 816.941.0728.
Take action
40 Days for Life
STM parishioners can join the effort and sign up to support the 40 Days for Life effort to end abortion. The program runs from September 27, 2017 to November 5 and the website for learning more and to sign up for days and times is: https://40daysforlife.com/local-campaigns/overland-park/
Both the ArchDiocese and our KC-St. Joseph Diocese have endorsed this effort for support.