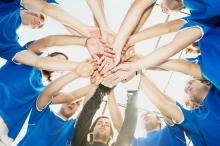 Each year, the Justice Ministry Team sends applications to charitable organizations in the Kansas City area that are providing services aimed to help people improve their lives. The applications are mailed in February or March, and the Justice Ministry Team meets in April to read through the applications and award the grants. In addition, St. Thomas More and Visitation parishes provide grants to parishes in the Kansas City/St. Joseph diocese who are struggling financially to help fund vital ministries.
Recipients are typically listed in the summer editions of our More News quarterly newsletter.
Contact David Butel for more information.