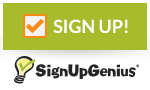 The annual Christmas Sharing Drive will help provide Christmas gifts for the children of the families served by Saint Louis Parish Social Services. Please help make Christmas brighter for a child/children from our urban core.
1 Click sign up! above
There you will see the remaining children, families and desired items. Please make note of how they are listed. You will use this to label the gift.
2 label and bring the gifts
√ label include the child's information on the gift so it can be directed to the correct child.
√ bring the unwrapped gifts to the narthex
by Sunday, December 6.
For more information
Contact David Butel at the parish office, 816-942-2492 x210 or dbutel@stmkc.com.