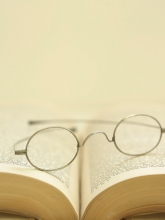 The book club meets the first Monday morning of the month, 9:30-11:00, in the Bauman Room. We read a variety of books, including fiction, biographies and memoirs, books on prayer and spirituality, all considered in the light of our faith. We invite you to join us!
Our next meeting is Monday, June 5, at 9:30am. We are reading Mr. Blue by Myles Connolly, a novel from 1928. From amazon.com: "J. Blue is a mysterious man. Charming and carefree, he goes from rags to riches after the inheritance of an unexpected fortune, only to forgo money and power for the love of Lady Poverty. This life of service leads him to embrace fully his Christian faith—loving the unlovable, instructing the ignorant, and remembering that it is by grace that we are saved." This month we will meet in the Parish Office Living Room.
We will take a break for summer and resume in the fall.
October book: Jesus: A Pilgrimage by James Martin, S.J. From amazon.com: "James Martin, SJ, gifted storyteller, editor at large of America magazine, popular media commentator, and New York Times bestselling author of The Jesuit Guide to (Almost) Everything, brings the Gospels to life in Jesus: A Pilgrimage, and invites believers and seekers alike to experience Jesus through Scripture, prayer and travel. Combining the fascinating insights of historical Jesus studies with profound spiritual insights about the Christ of faith, Father Martin recreates the world of first-century Galilee and Judea to usher you into Jesus's life and times and show readers how Jesus speaks to us today."
Contact Fr. Justin for more information.
---
What We've Read So Far
Year
Month
Title
Author
2013
October
Rediscovery Catholicism
Matthew Kelly
2013
November
The Holy Longing
Ronald Rolheiser
2013
December
The Gospel of Matthew
2014
January
With Open Hands
Henri Nouwen
2014
February
Falling Upward: A Spirituality for the Two Halves of Life
Richard Rohr
2014
March
After This
Alice McDermott
2014
April
Sister Wendy's Bible Treasury: Stories and Wisdom through the Eyes of Great Painters
Sister Wendy

Beckett

2014
May
Seven Events That Shaped the New Testament World
Warren Carter
2014
June
Between Heaven and Mirth: Why Joy, Humor, and Laughter Are at the Heart of the Spiritual Life
James Martin. S.J.
2014
July
No meeting
2014
August
Tattoos on the Heart: The Power of Boundless Compassion
Gregory Boyle
2014
September
A Good Man is Hard to Find, and Other Stories
Flannery O'Connor
2014
October
In the Company of the Poor: Conversations with Dr. Paul Farmer and Father Gustavo Gutierrez
edited by Michael Griffin and Jennie Weiss Block
2014
November
Left to Tell: Discovering God Amidst the Rwandan Holocaust
Immaculee Ilibagiza
2014
December
The Gospel of Mark
2015
January
The Return of the Prodigal Son: A Story of Homecoming
Henri Nouwen
2015
February
This Flowing Toward Me: A Story of God Arriving in Strangers
Marilyn Lacey, R.S.M.
2015
March
How the Irish Saved Civilization: The Untold Story of Ireland's Heroic Role From the Fall of Rome to the Rise of Medieval Europe
Thomas Cahill
2015
April
Barabbas
Par Lagerkvist
2015
May
Things Hidden: Scripture as Spirituality
Richard Rohr
2015
June
Reading Jesus: A Writer's Encounter with the Gospels
Mary Gordon
2015
July-September
No meeting
2015
October
The Seven Storey Mountain
Thomas Merton
2015
November
The Long Loneliness: An Autobiography of the Legendary Catholic Social Activist
Dorothy Day
2015
December
The Gospel of Luke
2016
January
Life of the Beloved: Spiritual Living in a Secular World
Henri Nouwen
2016
February
Short Stories by Jesus: The Enigmatic Parables of a Controversial Rabbi
Amy-Jill Levine
2016
March
Sacred Fire: A Vision for a Deeper Human and Christian Maturity
Ronald Rolheiser
2016
April
The Saint and the Sultan: The Crusades, Islam, and Francis of Assisi's Mission of Peace
Paul Moses
2016
May
The Shack
William P. Young
2016
June
Three Days: The Search for the Boy Messiah
Chris Stephen
2016
July-August
No meeting
2016
September
Shared what we had been reading over the summer
2016
October
The Great Divorce
C.S. Lewis
2016
November
Mother Teresa: Come Be My Light: The Private Writings of the Saint of Calcutta
2016
December
The Rule of Saint Benedict
2017
January
The Way of the Heart: Connecting with God through Prayer, Wisdom, and Silence
Henri Nouwen
2017
February
Resisting Happiness
Matthew Kelly
2017
March
The Beautiful Mystery
Louise Penny
2017
April
The Book of Joy: Lasting Happiness in a Changing World
His Holiness the Dalai Lama and Archbishop Desmond Tutu
2017
May
Acts of the Apostles
2017
June
Mr. Blue
Myles Connolly
2017
July-September
No meeting
2017
October
Jesus: A Pilgrimage
James Martin, S.J.