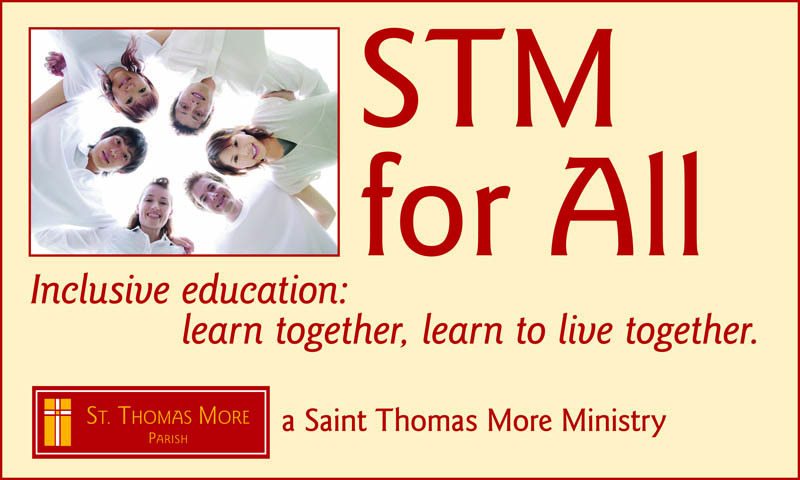 Mission Statement
The mission of STM-for-All is to ensure that all aspects of Saint Thomas More are committed to welcoming all of God's children by providing the resources, acceptance, compassion, and love necessary to support the development of their true potential.
STM-for-All Can Assist in Providing
STM-for-All provides • Teacher/parent advocacy • Guest speakers on specific topics, workshops or training • Assistance with locating resources for struggling students • Eligibility criteria for F.I.R.E. grants • Books, resources and tools to be used by teachers, parents or students • Health screenings
Who to Contact
Contact info: If you are interested in learning more about STM-for-All, volunteering to help, or making a contribution, contact Maeghan Miller at maeghankmiller@gmail.com
Who We Are
STM-for-All is a ministry within Saint Thomas More that is advocating for inclusion across our STM community. We are a group of parents, parishioners and faculty, volunteering to help define a welcoming culture that embraces our students and parishioners and the unique abilities they bring…into our classrooms, on the sports fields, and in our church. We actively pursue opportunities to raise funds to pay salaries for additional staff needed in our school to support our special kids. We believe many children identified with special needs or not, are and will benefit by having additional resources both inside and outside the classroom. We also believe that all the children with benefit by having their siblings, neighbors and peers accepted and welcomed into our school. STM-for-All was created as an advocacy to access needs, both in the church and school environments. We work to build programs and policies so that children and adults with a range of needs such as learning or social delays, special needs, gifted or excelled learning, other challenges and disabilities are included and supported. STM-for-All focuses on providing additional tools and resources that otherwise could not be provided.