BOOK DISCUSSION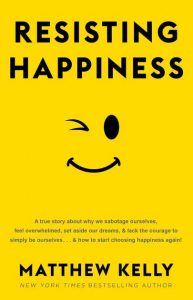 As a gift to the parish, each family was given Matthew Kelley's book, Resisting Happiness at the Christmas Masses. We pray that as you and your family read these pages you will discover some practical and profound ways to rise to a whole new level of happiness.
YOU ARE INVITED
As you read this book you are invited to meet with others from the parish to discuss and share what you learn from this book. Exploring the book with others will help you find more of the jewels of this book than you will find on your own. And by doing so you will help others find more jewels too.
HERE IS THE PLAN
Groups will meet once a week in More Hall in small groups for about 1 hour each week to discuss the seven days/chapters read during that week. The discussion groups will be offered at various times to accommodate most anyone's schedule. We do ask that you select the day and time you want to meet by registering below. The size of the groups are limited so register as soon as possible so you can select the day and time that works best for you.
To see available sessions and to sign up:

REGISTER!