---
New series starting THURSDAY, September 5, 2019:
The Commissioning of the Disciples
The eleven disciples went to Galilee, to the mountain to which Jesus had ordered them. When they saw him, they worshiped, but they doubted. Then Jesus approached and said to them
"All power in heaven and on earth has been given to me. Go, therefore, and make disciples of all nations, baptizing them in the name of the Father, and of the Son, and of the holy Spirit, teaching them to observe all that I have commanded you. And behold, I am with you always, until the end of the age."

Matthew 28:16-20
About
In light of our own baptism, this year we want to emphasize in the importance of the commission given to us by our Lord Jesus Christ of to GO and make DISCIPLES. This is not a suggestion or a question made by Jesus but a command: GO. Jesus sends us just as he was sent by his Father to proclaim that God is love. Yes, we are call to proclaim the Gospel. "Journey Together" wants to give you the necessary tools for you to accomplish this mission at home, church, work and everywhere! Take the next step and become a disciple and help others to become disciples.
New this year
Our priests Frs. Justin H. and Emmanuel L. are presenting the topics
Our season will last 12 weeks starting on Thursday, September 5
Our meetings will be on

Thursdays

with the following agenda.
Agenda
6:15 am Mass
6:45 am Food/Coffee/Social Time
6:50 am Presentation by either Fr. Lopez or Fr. Justin
7:00 am Table Discussion
7:18 am Closing prayer & Announcements
7:20 am Dismissal
Topics
The Healing Sacrament of Confession
Mary's role in our spiritual lives
Why say the Rosary and how to say the Rosary with meaning
Why and how to have Adoration of the Eucharist
The lives of Saints and our call to be Saints with them
What a true disciple looks like.
Saying prayers versus praying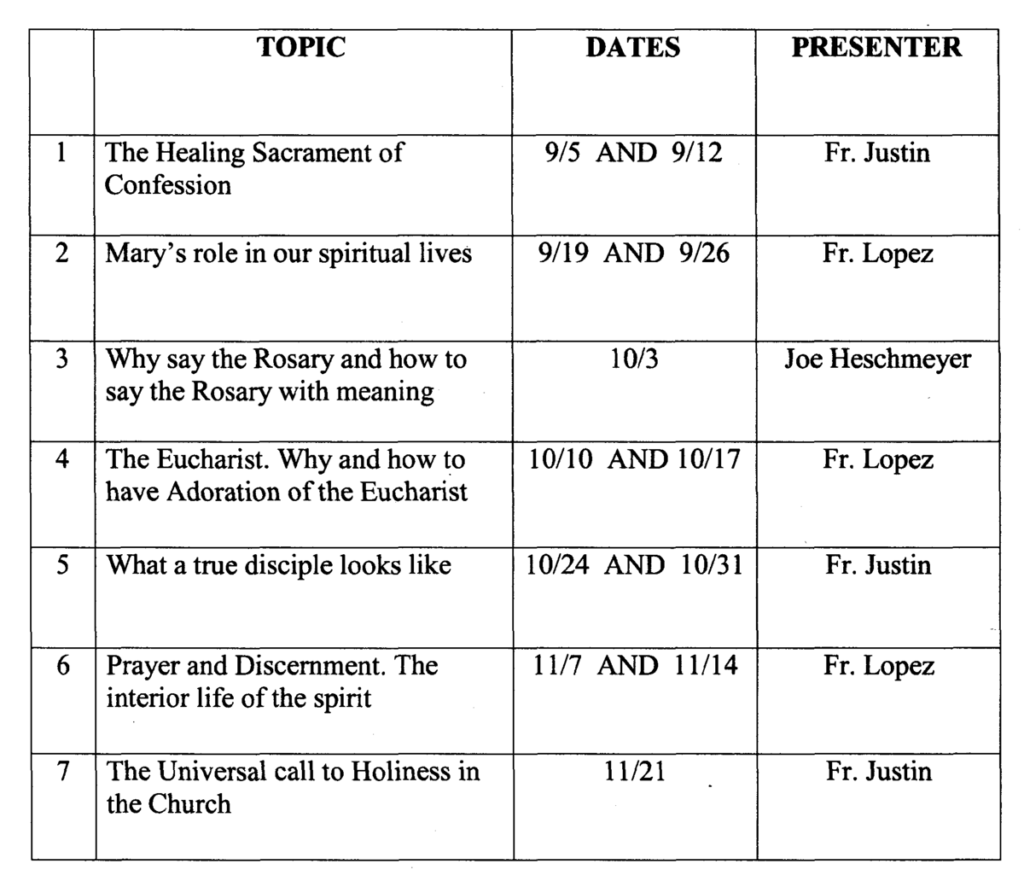 ---
Cost
These programs are FREE .
Registration
Register using the form below.
Questions can be directed to Father Emmanuel Lopez.
---