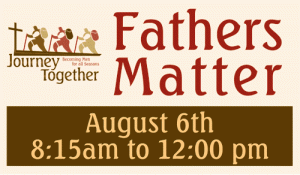 On August 6, 2016 the Men of STM hosted Fathers Matter. The focus of Fathers Matter was to raise awareness of the importance of fathers taking an active and intentional role in the spiritual formation of our children and grandchildren. Men's spiritual leadership in the family not only matters, it is paramount as we guide our children and grandchildren through all the noise and moral distractions of our culture.  The speakers at the event were Lamar Hunt Jr, Dan Spencer and Joe Gawron. Some comments from the men who attended include
"What a top-notch event. I'm going to step up my game as a grandfather."

"WOW!!! All three presenters were powerful and I learned some great lessons that I had been missing as a father. Thanks!"

"I'm glad I was able to come and I'm glad you recorded the speakers so I can watch them again. Too much great material to catch it all just once."
Videos of the event
We express our great appreciation to Lamar, Dan and Joe and to Mike McGlinn Jr. to made these recordings possible.
Most people don't have 90 minutes to watch these. So, we suggest that you make an appointment to watch one a day for several days. We would love to hear your feedback so click here to send us your comments.
To watch each presentation, click the photos below.
Enjoy!