More Hall Usage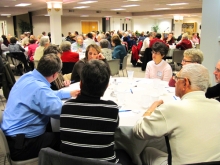 More Hall is first available for parish and school activities. It is also available for Diocesan events and organizations affiliated with Saint Thomas More, such as the Catholic schools, Scout groups, and other charitable organizations. For more information to rent More Hall for private family functions, click here to contact Joan Sandford. See the "Campus Maps" link at left for maps church and More Hall.
Smoke-Free Facilities
To comply with city ordinance 041125 and to protect all employees, students, worshipers, clients, gatherers and visitors from exposure to Environmental Tobacco Smoke (ETS) in order to ensure a safe working, studying, worshiping and gathering environment, Saint Thomas More is a smoke-free parish.
It is the policy of this parish and school that the workplace, worship space, gathering hall, educational facilities, and all associated enclosed areas are smoke-free and that all employees, students, and worshipers have a right to work, study and pray in a smoke-free environment. Smoking is prohibited throughout the entire buildings of the parish office, school, gym, church, gathering space and hall, with no exceptions. This policy applies to all employees, contractors, parishioners, parents, and visitors.