…was celebrated in 2014. See below.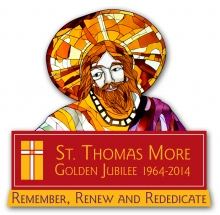 Jubilee (narthex) Banner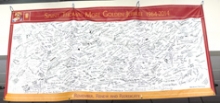 View the Jubilee Banner up close. See who signed it!
Jubilee video
Events
50th Anniversary Follies

How Great Thou ART Show
click for more

Ladies' Luncheon and Fashion Show
click here for more
Golden Jubilee Party (with The Elders)
Was Thursday 22, 2014
Saint Thomas More Feast Day celebration
Friday-Saturday, June 20-21, 2014, including:
More Smoke BBQ Competition beginning Friday evening, behind school
Celebratory Mass, 4pm, Church
Jazz & BBQ, Saturday, 5-8pm, Flanagan Hall
Family Fun Knight children's games at the Jazz & BBQ
Fifty Quotes on the Fiftieth Anniversary (click to read)
Jubilee founders social
---
How Great Thou ART Show
How Great Thou ART show celebrated the talents of our parish family and friends. Art of all kinds was on display. From amateur to professional, anyone is invited to participate. The evening showcased the art, an art raffle, live music, drinks and small bites. No ticket required.
Ladies Luncheon
In Celebration of Saint Thomas More's 50th Anniversary
Please join your friends as we honor an event from the past:
Ladies Luncheon and Fashion Show
Thursday, April 24, 2014
11:30-1:30pm
Loch Lloyd Country Club
16750 S. Country Club Dr.