…was celebrated in 2014. See below.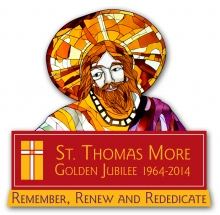 Jubilee (narthex) Banner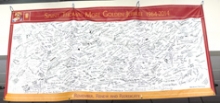 View the Jubilee Banner up close. See who signed it!
Jubilee video
Events
50th Anniversary Follies

How Great Thou ART Show
click for more

Ladies' Luncheon and Fashion Show
click here for more
Golden Jubilee Party (with The Elders)
Was Thursday 22, 2014
Saint Thomas More Feast Day celebration
Friday-Saturday, June 20-21, 2014, including:
    More Smoke BBQ Competition beginning Friday evening, behind school
    Celebratory Mass, 4pm, Church
    Jazz & BBQ, Saturday, 5-8pm, Flanagan Hall
    Family Fun Knight children's games at the Jazz & BBQ
---
Father Don's 4/28/13 bulletin column
After a failed attempt in the late 1950s to establish a new church in the 6200 block of Ward Parkway called Saint Thomas More, the name was resurrected a few years later when Monsignor John Huhmann was called to south Kansas City by the bishop to establish a parish under the patronage of the British scholar, public role-model, and martyr.  On June 1, 1964 Huhmann was notified that he had been selected for the blessed task; by June 11, he determined that 270 households would be founders of the new faith community; on July 9, he was installed as the first pastor.  The first Mass was held on that same day at Avila College.  The community continued to assemble there until the church (now Flanagan Hall) was built and dedicated in June of 1966, the same summer that our school opened its doors.
This June we will enter our fiftieth year of existence and begin the celebration of our half century of mission and ministry as Saint Thomas More Parish.  Yvette Miceli is coordinating our Golden Jubilee celebrations.  Thank you, Yvette!  Though we don't yet know exactly what shape these celebrations will take, I ask for your involvement and assistance.  We will want to have a Founders Club, including all of those who joined the parish in 1964.  This group will share stories of those early years when south KC was mostly farmland, when the J. C. Nichols Company was developing neighborhoods, when children gathered at Red Bridge for bowling, dances and movies, when the Sisters of Saint Joseph taught our students, and when the Second Vatican Council was just beginning to influence church life.
Since Sir Thomas More has been dubbed "A Man for All Seasons" we will probably not have just one celebration event but one each season, e.g., Fall Festival, Summer Feast Day, etc.  We may wish to host Sixties Days each month where students dress the part and retell the stories of their parents and grandparents.  Various parish groups, from More Friends to Mothers of Young Children, might host theme parties of those glory days.  I would love for you to donate old T-shirts, sweat-shirts and jerseys of STM so that our quilters could create a massive quilt for display and auction.  Oh yes, we'll need to recruit some quilt-makers–does anyone still do that?  Some of our sports teams may don retro uniforms recalling the days that we were the STM Chiefs or the short stint in which we were known as Mini-Mores.
If you have photographs and memories of those early days on film or in still-frames, let us know.  If you can assist by creating a time-line, please help us.  If you would like to participate in a homes-tour of the first houses in the community, please step up.  There is lots of fun to be had.  We'll kick it off on June 22, 2013, the Feast Day of Saint Thomas More, as we enter our fiftieth year and begin our Golden Jubilee celebration.
---
Fifty Quotes on the Fiftieth Anniversary (click to read)
---
On this site: