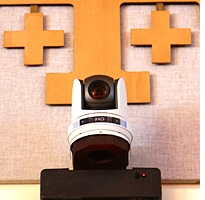 The church has a camera system that is able to record events in the church as well as provide a live feed or playback of DVD's and powerpoint presentations to the narthex screens. The Camera Technology Team operates this system.
Duties of this team can include:
work the church camera system at weekend Masses or for funerals or weddings,
learn how to record on the camera system,
run dvds or other presentations on the narthex screens,
prepare those dvds or shows for weekend Masses,
run video presentations at Masses,
serve as a consultant to prepare and run videos and other presentations in More Hall.
To volunteer
Contact Tim Waris for more information.