Though the survey process is complete with 191 responses the survey is provided below for reference. (If you are not familiar with what is being considered, please read below first.)
From the Town Hall Meeting October 2016
The following notes are a summary of what was presented at the Town Hall meetings on October 22-23.
Danny Welsh's presentation: A short history of the process
As we begin phase II of our Master Plan it is helpful to review our history. The process began when Father Weiss organized the Pastoral Council. In late 2005 and early 2006 the Pastoral Council performed a "SWOT" analysis (Strengths, Weaknesses, Opportunities, Threats) for the parish. Father Don arrived on July 1, 2006. Father Don reached out to Denis Greene, President of Church Development, to lead town hall meetings. Father Don formed a committee to organize the results of our town hall and develop a Master Plan for the parish. The cost of implementing the Master Plan was between $17,000,000 and $18,000,000. Father Don and the committee split the Master Plan into three phases. We conducted a feasibility study to prioritize the projects which should be part of Phase I.
Father Don wrote a letter to Bishop Finn on August 8, 2007 requesting permission to begin phase I of our Master Plan and conduct a capital campaign. Bishop Finn approved our plan and we conducted "dinners in the home" and More Hall gatherings during the fall of 2007 to educate all parishioners. Our Commitment Sunday was in December 2007. We successfully pledged $3,800,000, enough to cover our plans for Phase I. We eventually expanded Phase I to include to $4,400,000–to cover stained glass window repairs and construction of the parking lot north of the parish office–and extended our pledges one year. We moved into the Narthex in September 2009.
During the spring of 2012 Father Don thought it was time to launch Phase II. However we learned that the Diocese was planning a capital campaign so we had to wait. Now that Saint Thomas More has completed its portion of the diocesan capital campaign, it is possible for us to launch Phase II if the parish believes we have the appropriate projects and is willing to support those projects financially.
Jim Tiehen's presentation: where we are now
Phase II includes three separate projects:
Parish Office
School
Church and More Hall
1. Parish Office options
Project A of the parish office was designed by SFS Architects back in 2012 and updated early this year. Project A was to demo the existing office and install a new parking lot and expanding More Hall to the east to accommodate 5,400 s.f. of office space. The total cost of the project was very high due to converting the existing More Hall to a new facility, moving HVAC equipment and electrical. Therefore, the Building Committee decided to hire Chris Castrop, Castrop Design Group in April 2016. Chris has a lot of experience with church development and more experience with residential construction.
Project A-1 was the renovation of the existing parish office and renovating and adding on to the rectory for administrative offices. The existing parish office would be converted to youth ministry and parish outreach while the new rectory would house the administrative offices. We would then have to find a home in the neighborhood for the rectory. Unfortunately, the cost of A-1 was also prohibitive and dealt with some unknowns on renovation of a 1960's structure.
Project A-2 Chris then decided to move to project A-2 which the Building Committee fully endorses and supports. Project A-2 is to remove the parish office and build a new parish office and design it to house all of our current and future needs. The project was the best option economically.
Renderings of Project A-2 are below
Architectural schematics: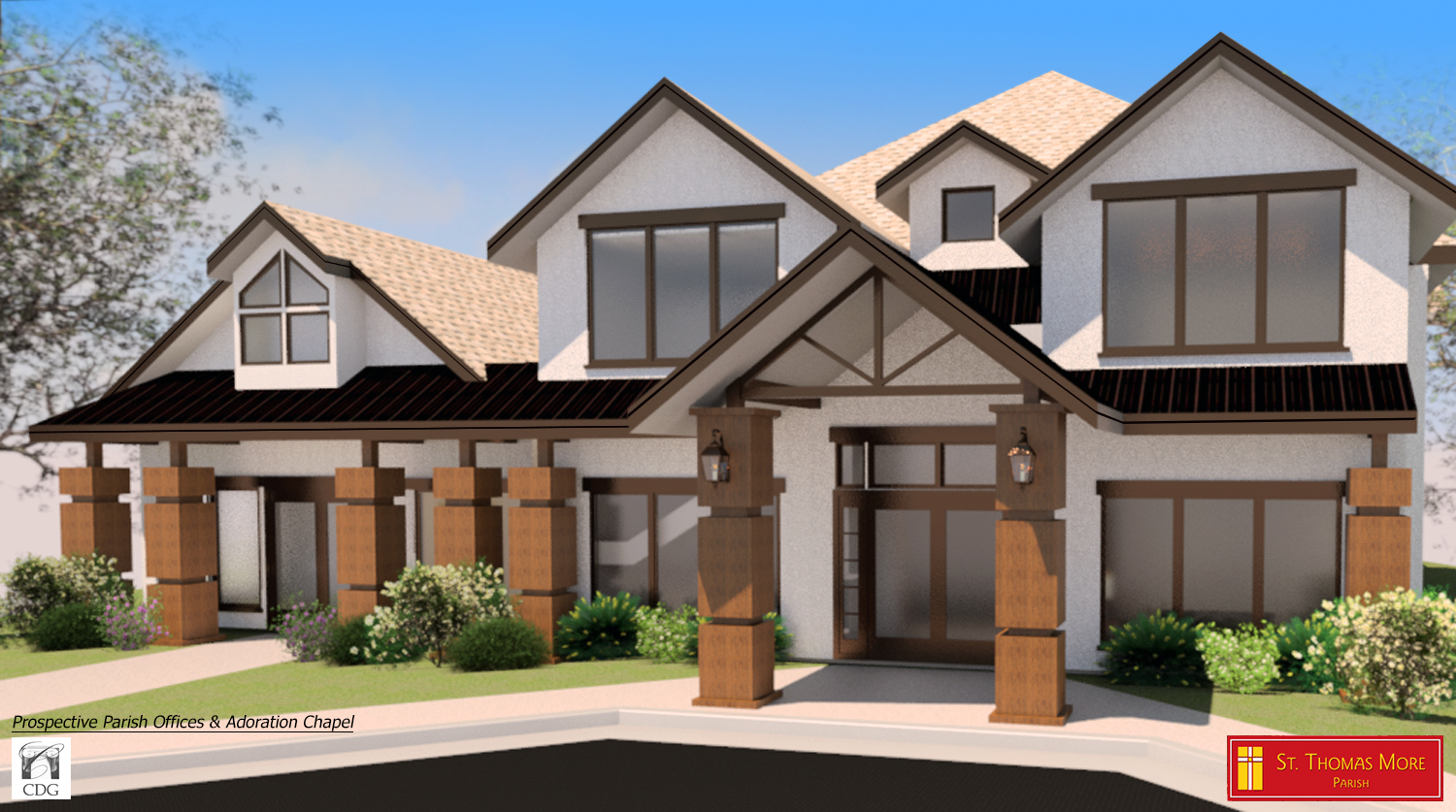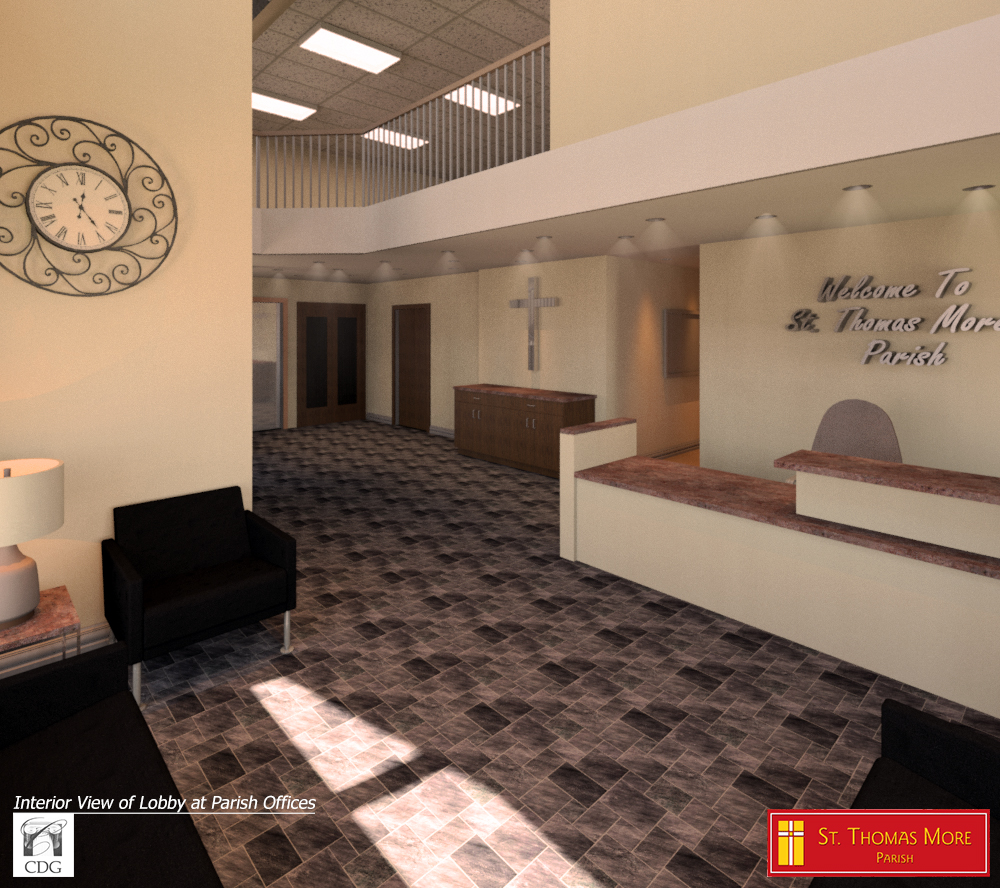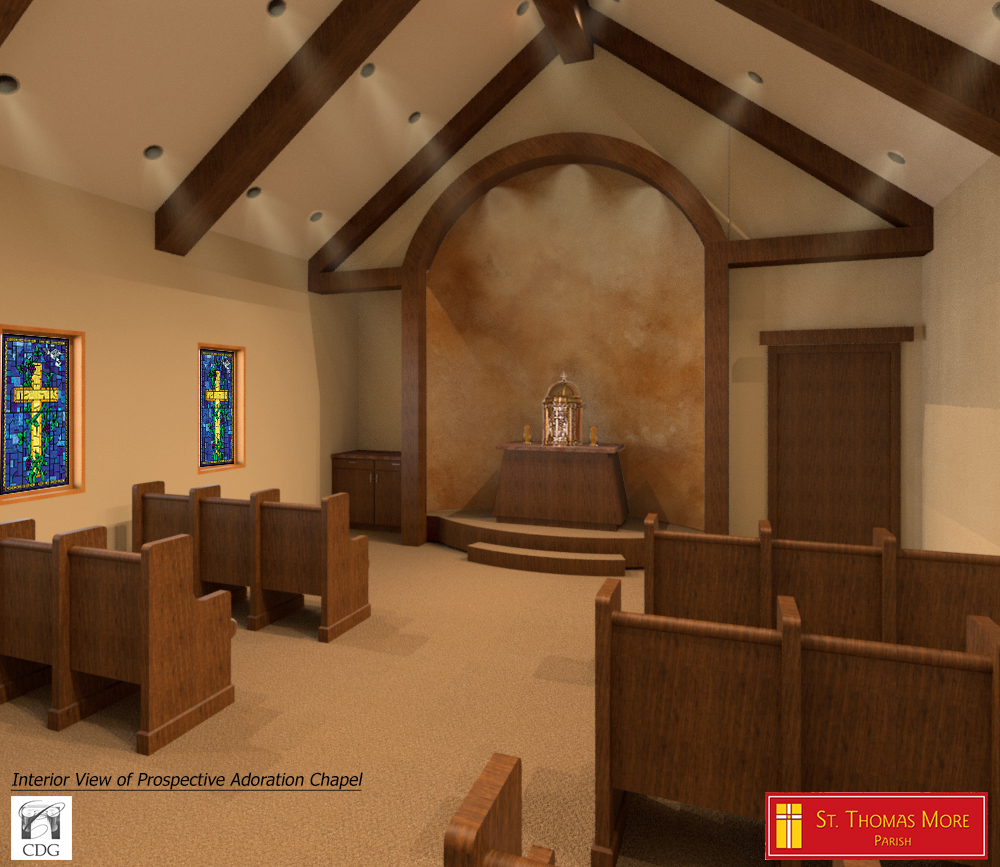 2. The School
The School project had two major components: (See below for details)
Security/Remodel
School technology
3. Church and More Hall
Church and More Hall also have two major components:
Fire suppression in church is a code requirement
More Hall renovation includes ADA compliance bathrooms, paint, ceiling tiles and addressing the front entrance where the trash enclosures are located.
The building committee did not want the entire Phase II project to exceed 4 million.
Steve Pawlewicz presentation: School Technology Proposal
5 Powerpoint slides in Adobe Acrobat format
STM School Teacher, Sarah Pendergast presentation: STM School Security/Remodel
New entrance configuration to have a secure entrance during the school hours

We want to maintain our entrance but reconfigure the office to control the access to the school by visitors during the school day

New doors at our high traffic entrances

Key fob locks for easier and secure access to the building
Key fobs can keep track of who is entering the building and at what time
Key fobs can be activated or deactivated without changing a lock
Coaches and volunteers can be issued a key fob during the time they need to access the building

Miscellaneous projects for building upkeep

Replace carpet in the hallways with tile
Replace worn out carpet in some of the classrooms
Maintenance upkeep that has been delayed in getting accomplished
-End of town hall presentations
---
For more on the history of this process that began in 2007, click page 2 link below.