CURRENT: Capital Campaign Phase II
Starting...
Kickoff is August 26-27. Thank you to all who volunteered to help.
From the Town Hall Meeting October 2016
The following notes are a summary of what was presented at the Town Hall meetings on October 22-23.
Danny Welsh's presentation: A short history of the process
As we begin phase II of our Master Plan it is helpful to review our history. The process began when Father Weiss organized the Pastoral Council. In late 2005 and early 2006 the Pastoral Council performed a "SWOT" analysis (Strengths, Weaknesses, Opportunities, Threats) for the parish. Father Don arrived on July 1, 2006. Father Don reached out to Denis Greene, President of Church Development, to lead town hall meetings. Father Don formed a committee to organize the results of our town hall and develop a Master Plan for the parish. The cost of implementing the Master Plan was between $17,000,000 and $18,000,000. Father Don and the committee split the Master Plan into three phases. We conducted a feasibility study to prioritize the projects which should be part of Phase I.
Father Don wrote a letter to Bishop Finn on August 8, 2007 requesting permission to begin phase I of our Master Plan and conduct a capital campaign. Bishop Finn approved our plan and we conducted "dinners in the home" and More Hall gatherings during the fall of 2007 to educate all parishioners. Our Commitment Sunday was in December 2007. We successfully pledged $3,800,000, enough to cover our plans for Phase I. We eventually expanded Phase I to include to $4,400,000--to cover stained glass window repairs and construction of the parking lot north of the parish office--and extended our pledges one year. We moved into the Narthex in September 2009.
During the spring of 2012 Father Don thought it was time to launch Phase II. However we learned that the Diocese was planning a capital campaign so we had to wait. Now that Saint Thomas More has completed its portion of the diocesan capital campaign, it is possible for us to launch Phase II if the parish believes we have the appropriate projects and is willing to support those projects financially.
Jim Tiehen's presentation: where we are now
Phase II includes three separate projects:
Parish Office
School
Church and More Hall
1. Parish Office options
Project A of the parish office was designed by SFS Architects back in 2012 and updated early this year. Project A was to demo the existing office and install a new parking lot and expanding More Hall to the east to accommodate 5,400 s.f. of office space. The total cost of the project was very high due to converting the existing More Hall to a new facility, moving HVAC equipment and electrical. Therefore, the Building Committee decided to hire Chris Castrop, Castrop Design Group in April 2016. Chris has a lot of experience with church development and more experience with residential construction.
Project A-1 was the renovation of the existing parish office and renovating and adding on to the rectory for administrative offices. The existing parish office would be converted to youth ministry and parish outreach while the new rectory would house the administrative offices. We would then have to find a home in the neighborhood for the rectory. Unfortunately, the cost of A-1 was also prohibitive and dealt with some unknowns on renovation of a 1960's structure.
Project A-2 Chris then decided to move to project A-2 which the Building Committee fully endorses and supports. Project A-2 is to remove the parish office and build a new parish office and design it to house all of our current and future needs. The project was the best option economically.
Renderings of Project A-2 are below
Architectural schematics: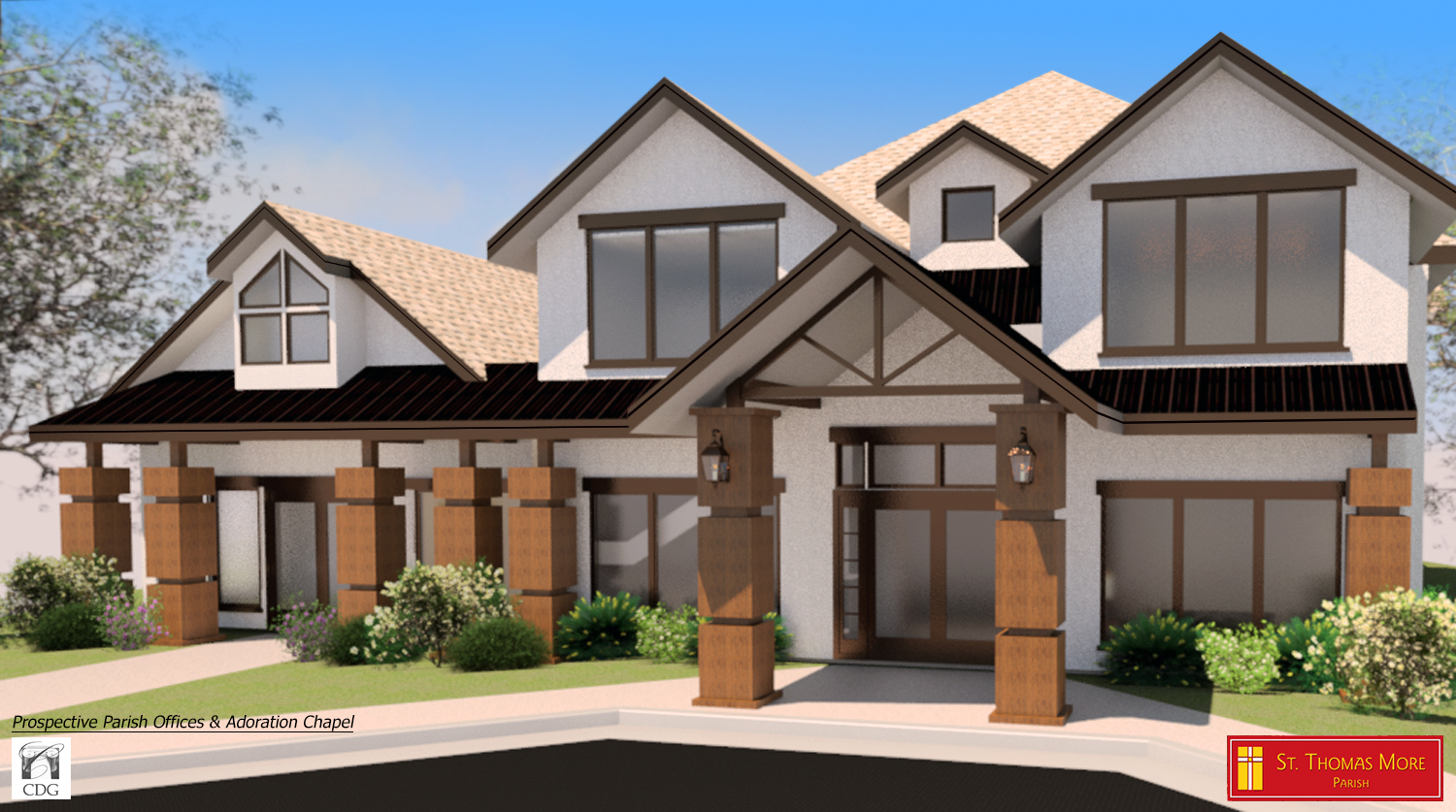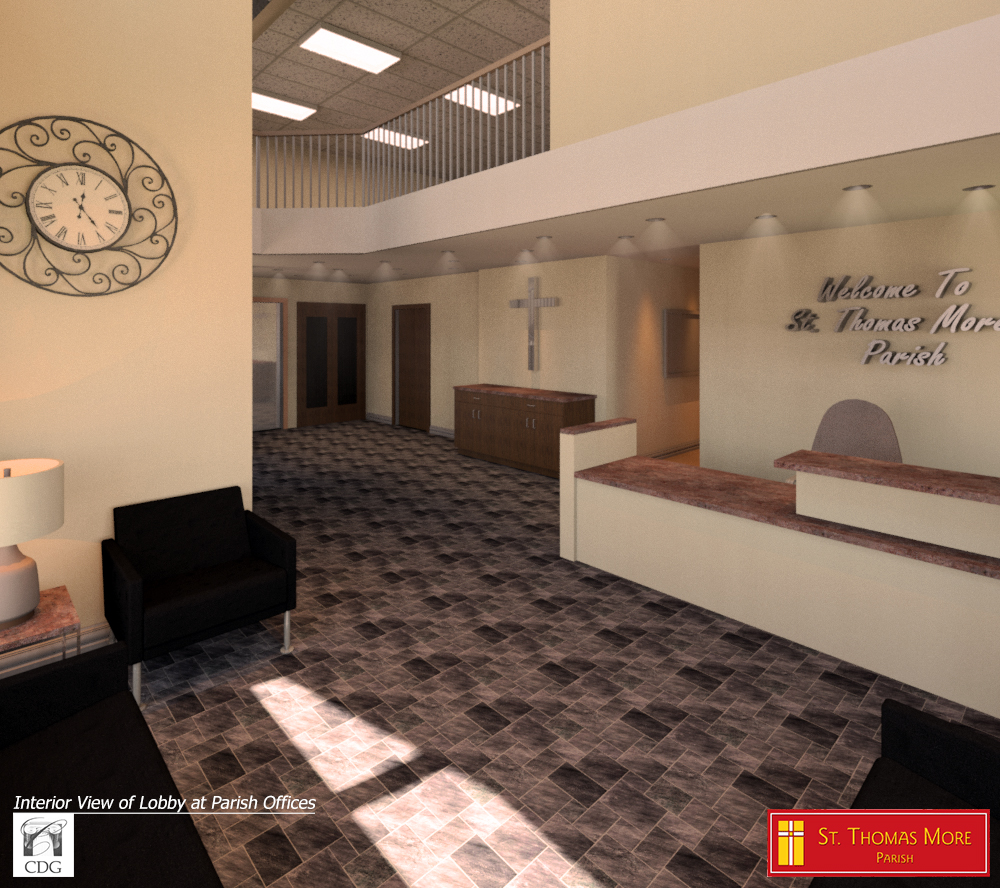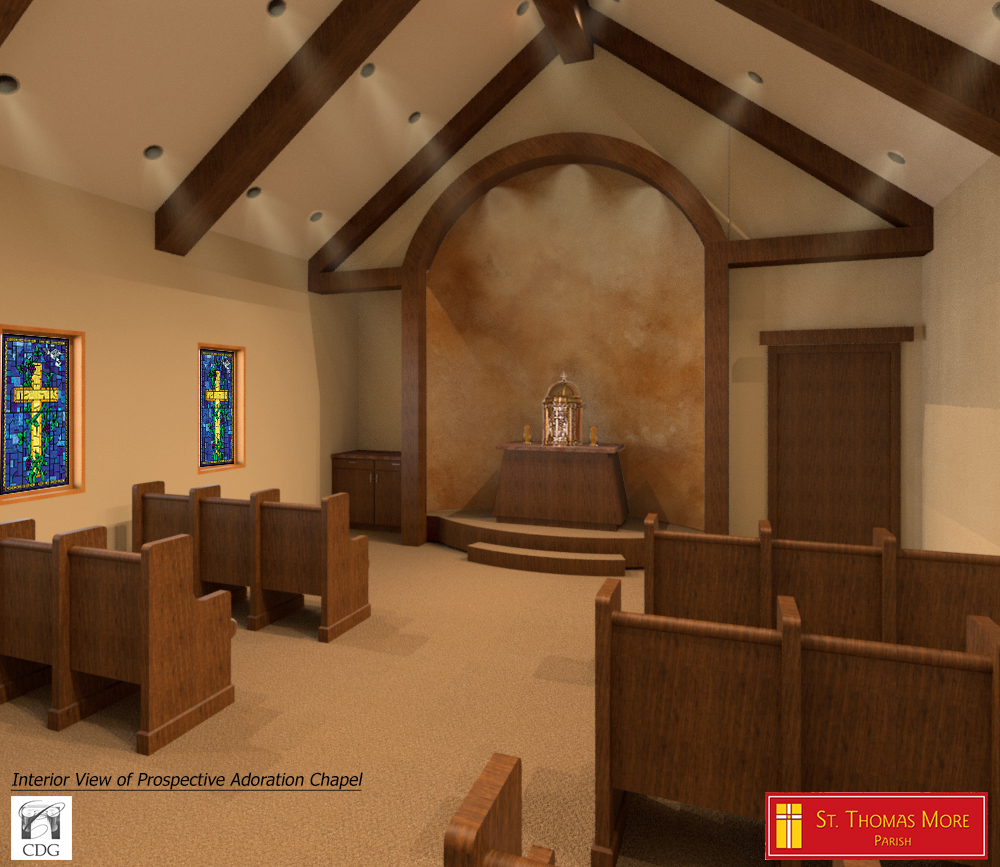 2. The School
The School project had two major components: (See below for details)
Security/Remodel
School technology
3. Church and More Hall
Church and More Hall also have two major components:
Fire suppression in church is a code requirement
More Hall renovation includes ADA compliance bathrooms, paint, ceiling tiles and addressing the front entrance where the trash enclosures are located.
The building committee did not want the entire Phase II project to exceed 4 million.
Steve Pawlewicz presentation: School Technology Proposal
5 Powerpoint slides in Adobe Acrobat format
STM School Teacher, Sarah Pendergast presentation: STM School Security/Remodel
New entrance configuration to have a secure entrance during the school hours

We want to maintain our entrance but reconfigure the office to control the access to the school by visitors during the school day

New doors at our high traffic entrances

Key fob locks for easier and secure access to the building
Key fobs can keep track of who is entering the building and at what time
Key fobs can be activated or deactivated without changing a lock
Coaches and volunteers can be issued a key fob during the time they need to access the building

Miscellaneous projects for building upkeep

Replace carpet in the hallways with tile
Replace worn out carpet in some of the classrooms
Maintenance upkeep that has been delayed in getting accomplished
-End of town hall presentations
---
For more on the history of this process that began in 2007, click page 2 link below.
A History
Our current point in this process traces back to 2007. Here is content on this page from prior to October 2016.
Update December 2012: we are not going forward with a formal capital campaign at this time, due to the Bishop's Capital Campaign due to start at the beginning of the year.
As you may have heard, our parish leadership has made the recommendation that we move into phase 2 of our master plan and add additional seating to the sanctuary, build a ministry center for our staff, demolish our current office building and replace with parking, and make some needed improvements at the school.
---
Feasibility Study, October 2011
We are currently assessing the feasibility of a capital campaign for Phase II of our master plan. The following Feasibility Study reports are available. these reports stem, in large part, from 408 parishioner surveys.
---
Phase II Case for Support
Overview
The Building Committee of Saint Thomas More has been very active since 2007 when we created a long range master plan for our facilities and grounds. In Phase I, the Building Committee managed the construction of the new narthex, elevator, parking lot, and school improvements.
Phase I was completed on time and under budget (we also completed a few Phase II items which resulted in significant cost savings, but it also necessitated taking on approximately $800,000 in debt which is being paid by our one-year campaign extension). Our church leadership is now considering Phase II of the long-range plan.
Our Mission
The mission of Saint Thomas More parish is to provide a welcoming, inclusive, and loving community by proclaiming and living God's Word through worship, education, and social justice.
Our Challenges
Of greatest importance, we face serious safety and functionality issues at our office. We have taxed a residential facility to the maximum, using it for a commercial purpose. The electrical, plumbing, and overall space usage is functionally obsolete. Because of outdated electrical aluminum wiring, we must address a genuine fire hazard along with other costly maintenance.
Due to unsafe conditions in the current office and the cost of continued retrofitting, that building needs to be demolished. This would allow for construction of a senior-friendly parking lot closer to the main entrance of the church.
We are also in need of increased seating in the church and construction of new ministry offices. Currently our church does not have a "front door" on the Holmes Road side of More Hall. The plan would allow for a more natural entry point and positioning of the office at the "front" of the church.
At the school, numerous update projects are needed, including: carpet, paint, security improvements, and creation of a library media center. Vandalism behind the school necessitates better lighting and security cameras.
To be good stewards of our parish facilities and to best meet the needs of our current and future parish members, the Building Committee would like to move now to have these improvements completed by Saint Thomas More's Golden Jubilee (50 year anniversary) in 2014. However, we need your input before a final decision is made.
Our Process
Our Building Committee has done a superb job of evaluating our facilities and recommending a plan of action. Now we will request feedback from our parishioners.
Because of the importance of this process, we have enlisted the help of Church Development, a Kansas City-based firm that specializes in church stewardship and capital campaigns, to lead us through a feasibility study for a possible capital campaign.
We will send a confidential survey to every household in our parish to gather feedback. Additionally, several families and individuals will be interviewed by our consultants. It is important to us to hear from you about how you feel about this potential project. The results of the survey will help us determine how to proceed with a campaign.
The Financial Considerations
Based on the findings of our Building Committee, to complete the above-listed projects, we need to raise approximately $3,500,000 to complete Phase II of our plan. This will include $400,000 for school refurbishing projects and the creation of a media center, and $3.1 million to increase seating, build office space with a Holmes Road entrance, demolish our old office, and create additional parking.
The Urgency
Our school maintenance needs stated above must be completed immediately. A school that is competitive in the marketplace is critical to a vibrant parish. The suggested updates will go a long way to ensure that Saint Thomas More School is an attractive place for families to send their children.
Additionally, there are significant safety issues with our current office that must be addressed. The building is functionally obsolete and a potential fire hazard.
We have a short window of time where the Diocese will not be conducting their planned capital campaign. When the Diocese resumes their campaign, there will be a moratorium on parish campaigns, so we feel now is the time to act to meet these important needs.
2013 Capital Needs Survey
A capital needs survey was done in April of 2013 inviting parishioners to express their opinions on capital project priorities for our parish campus.
Funding for the resulting projects will be provided by the STM Facilities Fund and our share of your contributions toward the Forward in Faith Campaign.
Survey Results
Summary (from Summer 2013 More News)
In April, a capital needs survey was posted and about 300 responses were given. The survey began by asking how we are doing with our "main" thing: spirituality. The majority of the respondents (93%) agreed that STM meets their spiritual needs. Father Don was mentioned many times as being the reason for these needs being met. Also noted were the Bible studies, Christ Renews His Parish Retreat, That Man Is You, Mass times and accessibility, a number of other advertised opportunities, and the wonderful and spiritual parishioners.
Many people (64%) skipped question number two (How could we better meet your spiritual needs?) and most who did try to respond were at a loss for suggestions beyond cloning Father Don. Suggestions that were made were fairly random, in that only one or two people commented on the same and there were no natural groupings of these responses. This is not to say that the comments are not important; the comments have been passed along to parish leadership.
The third question in the survey was, "What do you like most about Saint Thomas More Parish?" As you probably have guessed, Father Don was mentioned most often. The community of parishioners (welcoming, friendly, spiritual, close, caring, generous) was a close second. Other top responses included the staff and leadership, the school, and the variety of activities available at STM and within the community. Most inspiring to me were the numerous comments about the wonderful people at STM: how parishioners make Saint Thomas More Parish feel like family, like home.
Prioritizing the maintenance/upgrade needs of our campus was the most challenging part of the survey and garnered the most detailed comments. Not surprisingly, school safety and security (72% rating as 4 or 5) and structure (63%) came out as top priorities. A new parish office was a close third (61%). Most respondents want to know how funds will be directed before they contribute. Beyond that, there is a pull to maintain what we already have (not allowing facilities to fall into further disrepair), to keep students and staff safe on campus, and to continue to keep our school competitive.
Sixty-eight respondents agreed to help with the campaign by calling to spread the information. (You will be contacted soon!) The diocesan Forward in Faith Campaign for Catholic education and formation is being merged with our own Golden Jubilee Campaign to take care of some of our capital needs.
2008 Capital Campaign Phase I

Our goal
The capital campaign will focus on renovating the school and the narthex (lobby) of the church, including the installation of an elevator in the narthex.
The Capital Campaign Prayer
Loving God, Creator of the Universe,
We seek to build Your church, to make holy this sacred ground entrusted to our care to serve generations of faith at Saint Thomas More.
You are the Master Builder and Architect of our souls.
Guide our destiny to have not just a successful campaign but a successful parish that carries out Your will.
Christ is the Cornerstone of our structure and we are living stones that have been sent to build our future in faith.
Amen.
---
Update: One Year Extension to
Building Our Future in Faith Campaign Approved
Campaign success
To date (10/31/10), we have raised $3.333 million to fund our new narthex, the elevator and parking upgrades. The original $3.8 million was pledged, so we expect the rest to come in by the end of this calendar year, completing our original budget. Thank you so much to all the families and individuals who have generously given (and are still giving) to this campaign.
Why extend the campaign?
In December, our three-year capital campaign was due to come to a close. However, because we accelerated approximately $1.4 million of projects and expenses from phase two of our master plan into phase one for cost-saving measures, the STM Planning Team elected to extend the campaign for one year. Building Our Future in Faith will now conclude December 15, 2011. More information about the campaign extension will be available soon.