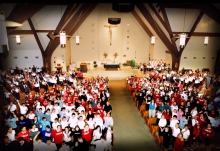 The seven sacraments are at the heart of Catholic spiritual life. The catechism of the Catholic Church teaches that sacraments are "efficacious signs of grace, instituted by Christ and entrusted to the Church, by which divine life is dispensed to us. The visible rites by which the sacraments are celebrated signify and make present the graces proper to each sacrament. They bear fruit in those who receive them with the required dispositions."
Mass Schedule (Mass Times)
Sunday Masses
Saturday: 4:00 pm
Sunday: 7:30 am, 9:30 am*, 11:30 am, 5:00 pm (is a Youth Mass on 1st Sunday of the month)
*The children also have a special Liturgy of the Word at the 9:30am mass.
Nursery: a nursery is available at the 9:30 & 11:30 Masses. The nursery is on the north side of the church building in the upper level (church level).
Daily Masses
Monday-Friday: 6:15 am & 8:15 am
Saturday: 8:15 am
All-School Masses  (while school is in session)
Each week: Wednesdays at 8:15 am
Holy Days: 9:30 am
Get Involved!
Liturgical minister schedules here
Reconciliation
Individual confessions Saturdays: 3:00–3:45 pm or by appointment and seasonal reconciliation service (Advent, Lent) see the bulletin.
Sacramental information